Win a copy of AmpliTube Fender™ Studio from IK Multimedia
December 2010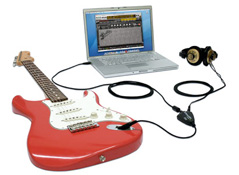 AmpliTube Fender™ Studio gives you all the tools you need to practice, play, and record with classic Fender® tone on your computer. Featuring the StealthPlug™, a simple plug-n-play Guitar-to-USB adapter, AmpliTube Fender™ SE Amp and FX modeling software, and RiffWorks™ T4 recording software. No other package includes such a complete suite of studio tools at this unbelievable price!
AmpliTube Fender™ SE is a software guitar amp collection with 15 ultra-realistic Fender® guitar/bass amp combinations, 4 stompboxes and rack FX, and a built-in tuner. Use SpeedTrainer™, the integrated audio player, to adjust the speed and pitch of CDs and MP3's and learn the licks of your guitar idols! AmpliTube Fender™ SE works in standalone mode or from inside the included RiffWorks™ T4 recording software to make recording your guitar easy and fast, and lets you collaborate with other RiffWorks™ users around the world!
For more information please visit www.ikmultimedia.com
You must be 18 years of age or older and live within the United States to enter the contest. Please note that duplicate submissions will be disqualified and by submitting to this contest, you will be invited to join OnlineRock Giveaway notification email list which you may unsubscribe to at anytime. Winner will be notified by email. Good Luck!
Complete The Information Below For Your Chance To Win